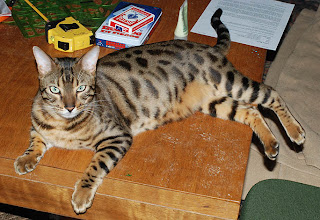 The food search goes on. Three days ago we were out of wet food and purchased
Fancy Feast
from the grocery store, as an experiment. Lets just say the boys went
NUTS !!!
This is the FIRST wet food they have absolutely attacked and totally cleaned their plates as well as the surrounding area, leaving nothing behind. They have become
total terrors
over the past few days while eating F.F. They literally sit in the kitchen yelling for food! If we get up, they run at us and herd us to the kitchen. This is not behavior we have seen with any food. Both have been SUPER active, it is scary. I wish I had a generator (dynamo) on the cat wheel because Uschi would be powering some lights around here. Tanj is even more active, maybe F.F. isn't good just for this reason. At the moment Tanj is literally flying around the house yelling, Uschi is playing along also. At the same time they are off the scale affectionate.
I'm not sure if we have gotten caught up in marketing or our research or personal biases, but we don't feel good about feeding them the grocery store foods. "Meat By-Products" are in the first five on the ingredients list for all the flavors. The Beef is obviously cardiac muscle, etc. "By-Products" are typically; heart, liver, brain/spinal cord, connective tissues, etc. which are tissues made up of cells that are longest lived in an animal and tend to bio-accumulate toxins. In the wild these "by-products" might be just fine, but since the source of modern meats is high density farm raised animals, with known issues with infections, etc, it is a little unnerving, for us. Additionally, as we have all seen, pet foods are not regulated/monitored as closely as we might all hope.
Tanj and Uschi just flew by yelling and chirping. So much more Energy,... EEEEKKKK!
Any insights?