Uschi is full of energy and seems to be doing better,
back running on his wheel...
And kick-pickling the cat cup too.
Uschi was so sprightly today that we took him outside for the first time since last Tuesday, and he took off down a trail, caught a vole, and ran back to Les to deliver the live vole at her feet. Maybe it was a thank-you for all of the hand-delivered meals this week, in the middle of the night.
I'm hungry!
Now its time for us to figure out how to get weight back on Uschi (and Tanji). Both brothers lost a lot if interest in food ever since the
2007 food recall
, and we've had on-going difficulty in getting them to eat enough food to match their active lifestyles. Uschi was so thin when he got sick, he didn't have much reserve energy to rely on.
We leave out two types of dried food all of the time for the boys to eat: Royal Canin Baby Cat or Kitten (Tanji likes this), and Natural Balance Green Pea & Duck (Uschi and Vladi like this). In the morning and evening, we split a can of fancy feast between the three boys (two small cans a day). There is a very long list of foods that Tani and Uschi won't even be in the same room with. We've tried all the brands of "wet" canned food carried by Safeway, PetCo, and our local pet store.
Fancy Feast
is the only one they will even sample, and that is only in very small amounts, and they typically don't finish their twice daily 1/3 can servings.
Of course they get all the water they want.
I want this one!
(
ZiwiPeak
'Good Cat' Venison & Green-lipped Mussel
Treats
)
Open this, please.
(
ZiwiPeak
'Daily-Cat' Cuisine Lamb)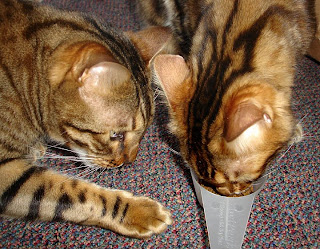 Tanji wants some too.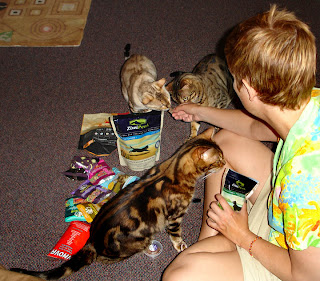 Vladi munches while Uschi focuses on his favorite,
the
ZiwiPeak
'treats'.
More, please.
Its nice to see the boys this enthusiastic about food.
Although they usually lose interest the day we buy bigger bags.
Previous
-----
Home
----- Next