Today is my 39th
birthday
.
I had a good day. I watered some trees, mowed, weed-whacked
took some students on a campus field trip, opened gifts, had
cake, went for a bike ride, and soaked in the tub.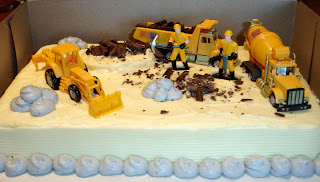 When I came in from the yard, Lesley had a special Safeway
cake for me
. Their bakery is pretty good,... they made me a
carrot cake sheet cake, (atypical cake type for a sheet) and
put the construction toys on it.
Lesley said they were all excited when she picked it up,
because it was a bit unique for them, and also we frequently
get baked goods from them, so they were
excited for me to get the cake.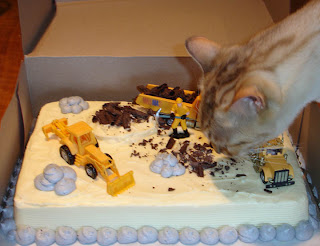 Vladi checks out the shaved dark chocolate ("dirt")
Toy removal, its Cake Time!!!
Ooooo toys.
My mother "found" a box of toys out in the barn and decided
I should have my tractor, so it was shipped across the country.
(The toys were stored securely to preserve them)
This fully articulating International tractor logged many
hours in the dirt pile in the back yard 35+ years ago.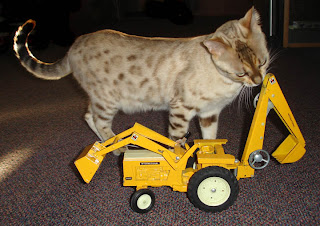 Like father like son.
Several weeks ago I placed an order for some
fancy Zipp Vuka bike components for my Calfee,
luck would have it that they arrived today.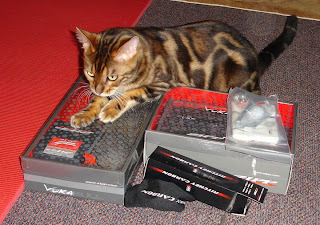 Uschi enjoys the finer things,...
Yes Uschi, bow to the the Vuka's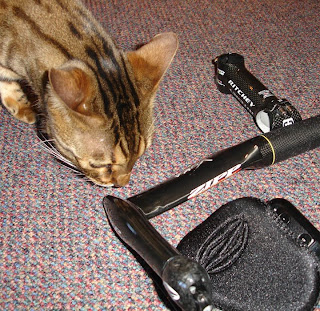 Tanji tentatively checks out the new bars.
Soon however,
the wrapping paper takes center stage, as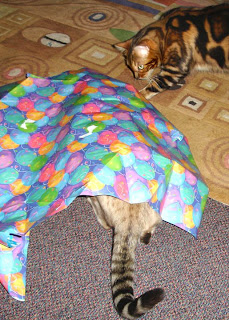 Vladi dove under the paper,...
and
Uschi jumped on top.