"Congratulations and Prosperity!"


Pronounced; "Kung Hey Fat Choy" in Cantonese and
"Gong xi fa cai" in
Mandarin.



Happy Chinese New Year, the year of the Golden Pig (boar), sure to be a lucky and prosperous year. It may be more appropriate to celebrate a "Happy Lunar New Year" because there are many countries, in addition to China, who follow a Lunar calendar instead of, or as well as, the Gregorian Solar calendar
. Either way, Tanj and Uschi are happy to ring in the Chinese New Year, because last year was the year of the Dog. As part of their celebration the brothers observed/interpreted several traditional practices.


In lieu of painting landscapes,
the boys went for

an early morning run on the trails.
Then to work on their eye-paw coordination
and relaxation skills they
After a long day of quiet meditations
the boys were charged up to
celebrate late into the evening.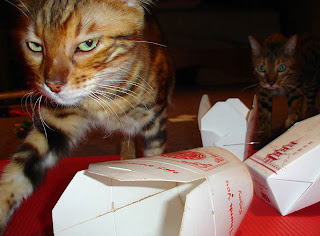 Uschi wasn't so sure about Kung Pao Tofu.
Then we moved on to
traditional New Year's Eve games.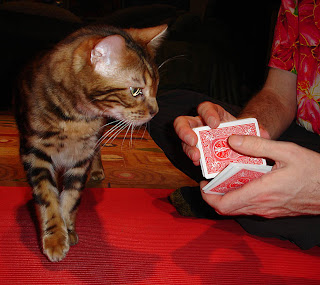 We started with some cards,
a 9th century Chinese invention.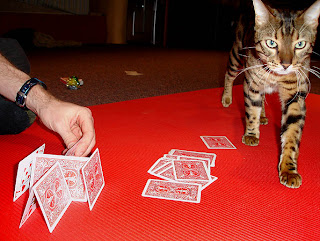 Tanj was focused and didn't even disturb
my structure.
He was more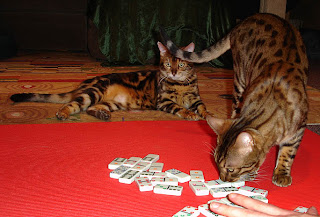 interested in dominoes.
(invented more than 1,000 years ago in China)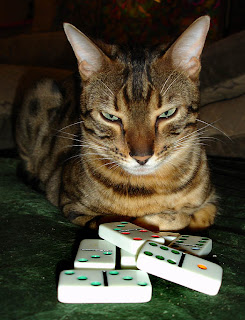 Tanj watched over his hoard of tiles,
while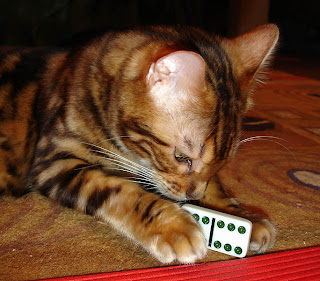 Uschi is content with his single "heavy bone."
The boys are so at one with their inner selves
that when we tempted them to knock over
a string of dominoes,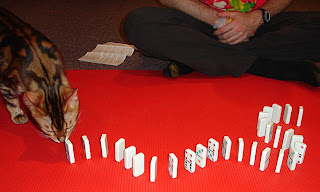 Uschi walked up and sniffed them,
and Tanj simply posed.
Neither disturbing the harmony of a single domino.
All in all it was a wonderful day.
We wish you a
Happy Lunar New Year!
"Let good luck arrive."
(good luck symbol inverted)

Pronounced; "fu" in Cantonese and "fook" in Mandarin.

We have done our best to research characters,
translations, and dates, but please do not hesitate
to E-mail Us any corrections we should make.
Previous ----- Home ----- Next