The boys love to wrap (and unwrap) presents,
something is so tempting about the crinkly paper.
Tanji happily sniffs the wrapping paper.
Sniff, sniff.
T loves to nestle on paper, and he is getting sleepy.
Vladi has found one of his favorite things, a gift bag.
Here's another one!
Someone wants to be taken for a ride.
In a one-room house, it can be hard to hide gifts
from the boys. Les ended up hiding in the bathroom
to wrap their goodies, with T & V howling outside the door.
For Tanji, we have a snuggly cave he can sleep in.
For Vladi, a new scratching box (he loves them).
And for Uschi, a (hopefully) quiet lure toy.
"Can't we open these now?"
The boys will probably like their gifts, but it is a
guarantee that they'll love the ribbons.
Tanji can't resist ribbon.
Very funny, Mom.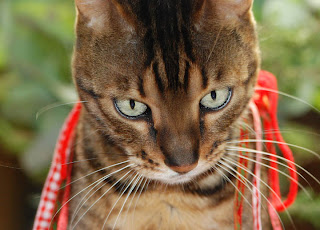 He is such a beautiful boy.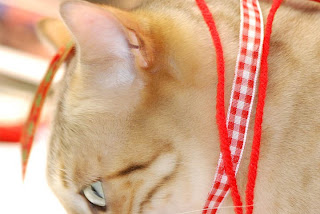 Here is another beauty.
"What about me? Make this ribbon go, please"
"Mine!"
Uschi is so patient, he lets Les dress him in ribbons.
"Gift Cat"